"Fru will walk you through an amazingly calming experience, inviting you to slow down, let your life outside the moment to slide behind you, and experience an active stillness that is available and accessible in the forest. This is something we should be doing on a regular basis. I am now a forest bather for life."
–
JOSHUA, Forest bathing participant
"I want to recommend an experience that will help you tap into your inner wisdom and understanding on a deeper level. It will be both restful and engaging; personal and universal. It doesn't require any skill and you can do it as often as you like. It's likely to return you something you may or may not have known you were missing."
– MARIA, forest bathing participant
"The experience invited me to tune solely into the forest and my presence in it—and obliterated all the little things, like so many "fleas," that tend to take my mind away from the forest when I am there. Fru, as guide, allowed us to surrender to the experience."
– CHRIS, forest bathing participant
"I was surprised how much better I felt after and how deeply positively it affected me."
– JENNA, forest bathing participant
"This experience was amazing. It took me days to speed back up again, and I don't think I will ever feel like I have to move so fast again!"
– PAIGE, forest bathing participant
"As an experienced hiker and nature lover, I think this walk offered me so many new insights that I took for granted or never gave enough attention to when hiking… Talking directly with others about the things I noticed during the group get-togethers really helped introduce me to different ways of observing."
– KEVIN, forest bathing participant
SIgn up for the newsletter
We send a monthlyish newsletter about nature connection and how we can be more embodied as we do our work here on Earth. Subscribe here to join the community and find out about upcoming offerings!
Fru Molnar (she/her) is the founder of Forest Baths, a lifelong student of the forest, and a Certified Forest Therapy Guide with the ANFT (Association of Nature and Forest Therapy Guides). Based in Peekskill, NY (Lenapehoking), she guides immersive forest therapy experiences throughout the lower Hudson Valley in partnership with all the "more-than-human" beings on this land, and she offers virtual forest bathing sessions remotely.
She is also an avid hiker and guardian of two rescue pets, who are her own personal nature therapy guides. A passionate advocate of mindful nature connection as the ultimate form of self-care and community care, she believes that forest bathing is for everybody and that we are all welcome in the arms of mother nature.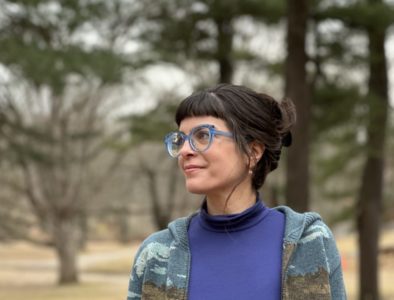 "We lay there under the trees for one, maybe two hours — I can't rightly say any longer. We chatted and relaxed and forgot time. And that is forest bathing. For me it was the most beautiful day in the forest that I can remember. And that's saying something, because over the course of my life I have spent thousands of days in the forest. So in case you, too, don't find it easy to simply lie down on the leaves, even though you'd really like to, I can recommend this: go forest bathing with a guide."
– Peter Wohlleben, The Heartbeat of Trees